It was a day like any other for Pep, this adorable white and black pet rabbit.
She was relaxing in her favourite spot opposite the sliding door with a view out onto the garden.
But all of a sudden, an unexpected visitor appears on the other side of the door. Pep finds herself face to face with a rather charming wild rabbit, who is intriguing to say the least…
The two rabbits feel an immediate connection. They try their best to sniff each other through the door…
The door begins to frustrate the wild rabbit, who is impatient to say a proper hello to the beautiful Pep…
The brave wild rabbit even tries to scale the window!
The pet isn't totally convinced… Instead, she takes cover inside a box.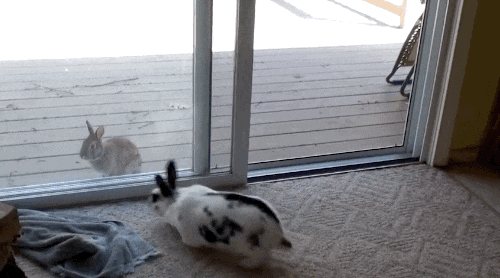 Source : @Youtube