Samoyeds: pretty, playful and oh-so-fluffy. Who wouldn't want one of these majestic dogs in their life? Originally bred to hunt, haul sledges, and herd reindeer, the Samoyed dog breed can be strong-willed at times, but above all they remain friendly, gentle, and devoted family dogs.  They also have a jolly "sense of humor" and often exhibit it when disobeying.
If that's not enough to convince you to adopt one of these fluffy monsters, then here's a list of reasons to help you make up your mind.
1. They DEMAND attention at all times!
2. And should absolutely not be trusted around children!
3. Be warned: They may come across as romantic…
Source: Pinterest
3. But this is all just part of their plan for world domination…
Source: Shookum the Samoyed
4. You better be prepared to cater for their extensive hat collection.
Source: The Samoyed Siblings
5. Oh, and they absolutely HATE playing dress-up…
Source: AliExpress
6. They are also highly intellectual creatures and WILL beat you in a game of Scrabble.
7. They have also been known to attack you upon entering your own home so be on guard!
8. You must never forget their birthday! They expect to be treated like absolute royalty…
9. They have been known to steal your bed, so be prepared to sleep on the sofa!
10. Don't let them out in the snow! They will have a miserable time…
Source: Samoyed Club of America
11. Make sure you keep your eye on them at all times! They are masters of hide and seek…
12. They must be the stars of the show and will definitely upstage you at your wedding!
Source: Bobbi Barbarich
13. Thinking about going on holiday without them? THINK AGAIN!
14. They are always getting themselves into tricky situations…
Source: Imgur
15. But rest assured, they will protect you from any unwanted visitors…
Source: Tumblr
16. We're serious. Whatever you do…
17. Never, EVER adopt a samoyed!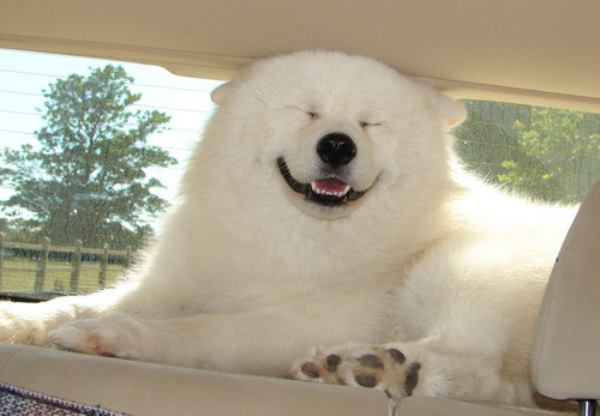 Source: PBH2
If you do decide that you want a samoyed, see if you can find one in a shelter before deciding to buy. You can find purebred dogs in shelters just like any other!
If you want to get a samoyed puppy, make sure that you don't support the abusive puppy mill and backyard breeder industry by getting your new family member through a trusted breeder. Ethical breeders will want to meet you several times before they sell you a puppy, will let you see the puppy with their mom, brothers and sisters and will raise their dogs in a home environment.
* * *
At Holidog, we aim to improve the lives of your furry friends. Enjoy your holidays with peace of mind, knowing your pet is in great hands (find a petsitter near you) and spoil them with our monthly subscription box filled with yummy treats and toys (they're going to love it). You can count on us!