If you are lucky enough to have more than one dog in your home, congratulations! You are sure to be the envy of all of your friends, as well as anyone who sees you and your 4-legged friends as you walk your squad.
But what does the addition of 4 (more) paws add to your life? Find out below!
1. All food is their food
Source: Youtube
"Looks like you're enjoying that burger. We too would like to enjoy that burger."
2. No space is personal
Source: Instagram/jessie.marie7
3. Dog toys fill every room
Source: Doxiepin
It's like they have more things than you do.
4. Walks are a logistical challenge
Source: Splash News
Just pray that a squirrel doesn't run past you.
5. Peace and quiet is a thing of the past
6. Your friends always want to come round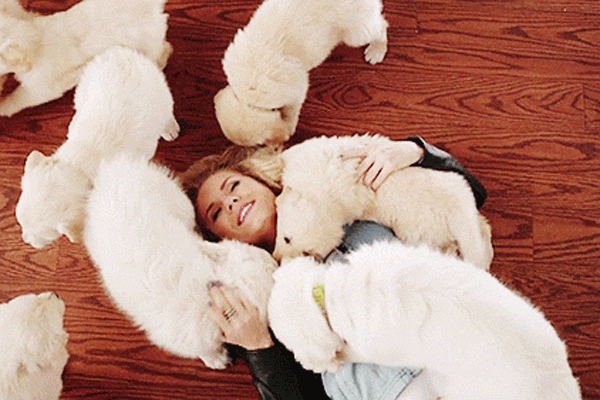 Source: Giphy
They love the dogs more than you, but who can blame them?
7. Dog hair. Dog hair everywhere. 
Source: Amazon.com
8. Sometimes they gang up on you… Source: Senorgif
9. It can get pretty smelly…
All dogs have unique personalities, but one rule is constant: don't shake off the rain until you're completely inside the house. #wetdog

— Elliott (@nerdy_fat_guy) November 6, 2017
10. And they sometimes get quite jealous of each other 
Source: imgur
11. But when they get along it's magical 
Source: Imgur
12. Think it's difficult leaving the house with one dog? Try 2.
Source: Flikr
Those judgey eyes will haunt you all day.
13. One word: Dog farts.
Source: gifbin
14. You're treated to a full on, wolf-pack style howlathon every so often
You often ask yourself if you adopted 2 Spaniels or 2 wild beasts.
15. But no matter what, you always have a friend to cuddle 
And you wouldn't give them up for the world!
* * *
At Holidog, we aim to improve the lives of your furry friends. Enjoy your holidays with peace of mind, knowing your pet is in great hands (find a petsitter near you) and spoil them with our monthly subscription box filled with yummy treats and toys (get your free box here). You can count on us!